TIPS OF PREPARING FOR HOME IMPROVEMENT PROGRAMME
Sharing Of What We Have Encountered During Our HIP (Home Improvement Programme) And Hopefully These Tips & Pictures Will Help You In Your Preparation. It Took 2 Of Us To Complete  Furniture Shifting And Wrapping Within 3 Days Using 24 Sheets And 20 Roll Of Masking Tape. Suggest To Schedule The Covering & Shifting Of Items Into Weekday Evenings And Then Go Full On For A Weekend. Special Tips!!   – Check With The Contractor Office In Charge When Will Your Neighbor's Unit Be Starting.   Why?  So That You Can Start Sealing Up Your Windows To Prevent Their Dust From Invading Your Home.  Same Goes For Your Main Door, Probably You Can Put A Damp Towel To Block The Dust Too!
WHAT YOU WILL NEED
Plastic Sheets (Cost Range From SGD $1.50 to $2.00)
Masking Tapes  (Hunter Masking Tape Is A Better Brand If You Can Find It)  In Our Case We Couldn't Find Hunter Masking Tape And Hence Have Used Hi-Bond.  *Suggest To Buy Masking Tapes From Painter Shop Rather Than Neighborhood Hardware Stores As Those Are Not Sticky Enough & Are Rather Thin.  For Those Thin Masking Tapes, You May Use It For Sealing The Floor Instead So As To Save Cost. (Cost Range From SGD $1.30 to $1.60)
1 Roll Of Normal Transparent Plastic Tape
Garbage Bags To Cover Or Seal Your Kitchen Items Like Rice Cooker Or Other Small Items.
Paper Weight Or Something To Hold The Plastic Sheets Down While You Plan Or Sealing Them.  In Our Case, We Have Use Dumbbells.
Measuring Tape (Get Those Measuring Tape That Are Being Used By Contractors).
1 Permanent Marker As This Will Come In Handy When You Are Measuring And Customizing The Plastic Sheets.
1 Pair Of Scissors
Post-It Yellow Sticky Notes.  To Be Used For Listing What Are The Items You Would Like The Contractors To Keep In Your Bathroom As Well As To Point Out Defects If Any Once HIP Is Completed.
Unwanted Cardboards To Protect The Corners Of Your Bedframe As Well As Sofa Or Furniture That Are Exposed.
Wet Tissues (Use Daily For Wiping Your Feet Once You Go Into Your Clean Bedroom)
Unwanted Cloth – To Clean Up The Dust Daily.
A Small Pail – Works As A Flush For The Temporary Bathroom.
MASTER BEDROOM
Covering Of Wardrobe, Bed Frame, Aircon Unit, Window And Floor Area. If You Have Excess Space, Move Your Mattress To Another Room As The Dust Can Really Be Overwhelming.    Due To Time Constrains, We Did Not Create A "wall or box" Covering The Bed Frame.  But Ideally We Would Suggest You To Do That If Possible.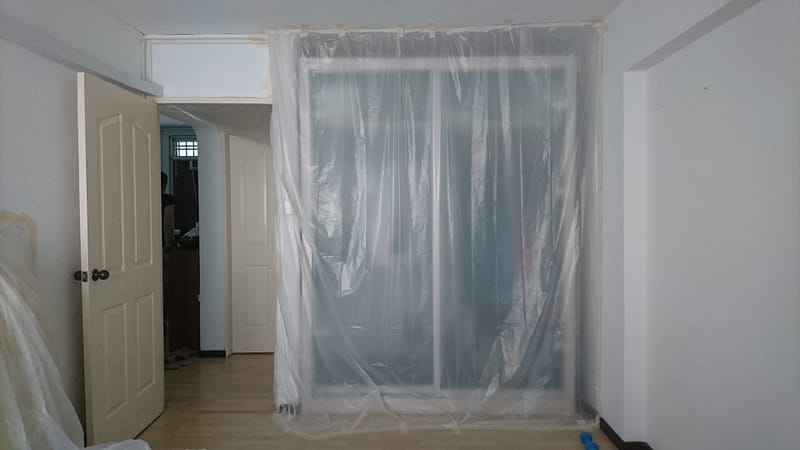 LIVING BEDROOM
Covering Of Shoe Cabinet, TV Console, Sofa, Dining Table & Chairs, Cupboard, Aircon Unit And Floor Area. We Have Shifted Our TV As Well As Sound System To Our Temporary Guest Bedroom & Had Used Our Coffee Table As A Temporary TV Console.   A Little Entertainment To Keep Us Happy For The Next  10 Days And This Could Prevent Dust As well. We Had Used Masking Tape To Close Up The Gaps That Are Exposed To Dust For Our Shoe Cabinet.    You Could Use This Method For Your Other Furniture As Well.
Overall Cover For Air Con And Shoe Cabinet
Shifting Of Sofa, Dining Tables & Chairs, Small Cupboard And Created A Cluster To Protect Together With The Window As Well As The TV Console Cabinet. To Protect Our Sofa, We Had Wrap It With The Plastic Sheets And Use Cardboards To Protect It's Corners.
Walkways & Bedroom Doors Do Create A Curtain For Rooms That You Will Be Sleeping In As Well As Rooms That You Are Not Using. **IMPORTANT (Tips To Share From What We Had Learned From Our Mistake) — We Did Not Secure One Of Our Room Well & A Lot Of Dust Sipped In.  Our Mattress & Other Items Were Covered With Dust… So For Items That You Are Keeping In A Spare Room, Please Protect Them With Cover Too To Prevent What We Went Through.
Protecting Lights & Power Sockets
KITCHEN
Covering Of Our Favorite Wine & Alcohol Cabinet, Kitchen Cabinets, Fridge, Area Under The Sink  And Partial Floor Area. We Did Not Cover Our Washing Machine Because We Are Not Sure Where Would  The Contractors Prefer It To Be Placed.
The White Board Is Laid By The Contractors On The First Day To Protect Our Floor. After Which, It Will Be Protected Again With A Rubber Layer.
FINALLY BATHROOM INDICATION
You Would Need To Indicate What Are The Items You Would Like To Keep In Your Bathroom So That Contractors Can Install For You Later.  Few Examples As Per Below. If You Have NEW Items That Need Help On Installation (Example: Mirror Cabinet Or Bidet Spray) Do Buy Them In Advance Before The 9Th Day Of Renovation. **For Reference:  Installing Of Bidet Spray Is $15 Each.   |     If You Need A Water Outlet For A Washing Machine, It Cost $55. If You Are Choosing Slip Resistant Treatment For Your Bathroom Floor Tiles, Please DO NOT Use Product Like Mr Muscle Or Any Other Products Which Contains Bleach As It Will Cause White Patches Due To Erosion.   Instead, We Were Being Suggested To Use Normal Dishwashing Detergent To Maintain The Treatment.     Fyi, Treatment Will Last Only For 3 to 5 Years.
A Contractor Will Check With You Where You Would Like To Place Your Basin and Washing Machine Drainage And Will Draw Out The Positions.(This Will Be A Reference Layout Map For All The Other Contractors.)
Quick "Tour" Of How Our Home Looks Like On The First Day After Hacking Is Completed As Well As How The Temporary Bathroom Looks Like. Everyone Is Concern About How The Temporary Bathroom Looks Like.   Ours Was Ok, Not Smelly Actually And Pretty Spacious.  Recommended For Shower And Peeing Only. ***Do Note That Temporary Bathroom Might Not Be The Same Depending On Who Is Your Contractor.
links from GOV.SG Subscribe To Get More Updates About Home Improvement Programme – HIP Instagram
WHERE TO STAY DURING HIP (HOME IMPROVEMENT PROGRAMME) We get alot of people asking and searching for "Where to stay during HIP or home improvement programme?" For us personally, we have stayed in our extra guest room but it was really uncomfortable.  During the day,...
HOME IMPROVEMENT PROGRAMME UPDATES Hope Our Previous Article Have Help You In Your HIP Preparation.  In This Article, We Continue To Share With You On Home Improvement Programme Updates From Day 1 to 10. TIPS FOR DAY 1  **IMPORTANT - Do Remind The Contractors To Close...