HOME IMPROVEMENT PROGRAMME UPDATES
Hope Our Previous Article Have Help You In Your HIP Preparation.  In This Article, We Continue To Share With You On Home Improvement Programme Updates From Day 1 to 10.
TIPS FOR DAY 1 
**IMPORTANT – Do Remind The Contractors To Close Your Main Door EVERYDAY After Their Work Have Ended For The Day.    On The First Day, When We Reached Home, We Were Shocked To See Our Door Wide Open With Lights On Without Anyone In it.!!!
Check Around The House For Damages And Tearing Of Your Plastic Sheets.  Patch Them Up!
 Have A Pail Of Water To Be Used For "Flushing" The Toilet.
Wear A Mask! Not Only Because Of Covid But It Is Good To Prevent Dust.
You DO NOT Need To Pass Your Keys To Anyone If You Are Coming Home Daily.
DAY 1 (CRAZY DUST INVASION)
Documents & Some Information The Office Personnel From The Contractor Company Will Go Through With You In The Morning Before The Work Starts.
Things Like: What Are The Options You Have Chosen For The HIP, Are There Any Extra Items You Need Them To Install?, How Will The Common Toilet (CT) And Master Toilet (MT) New Door Opening Direction Will Be.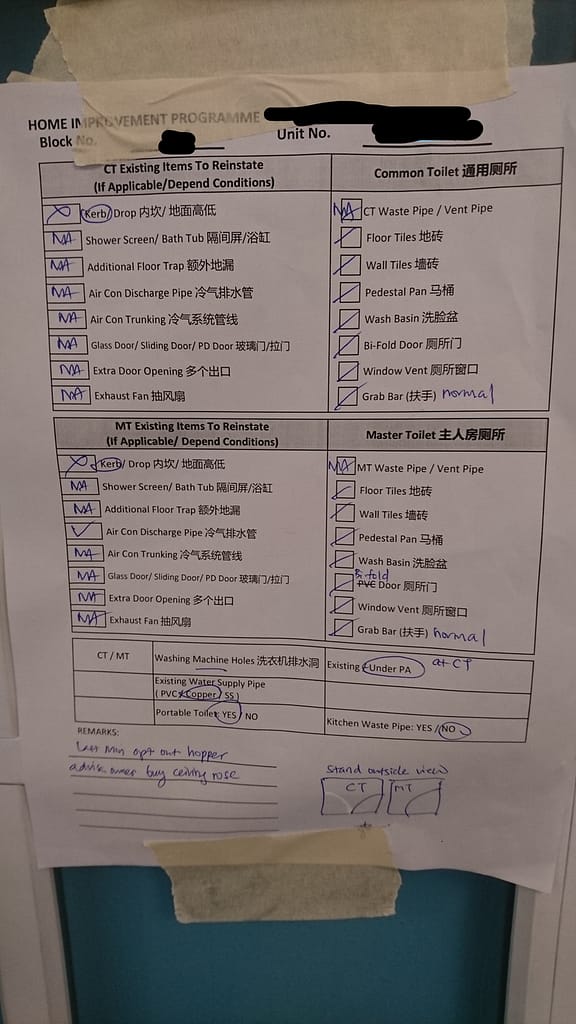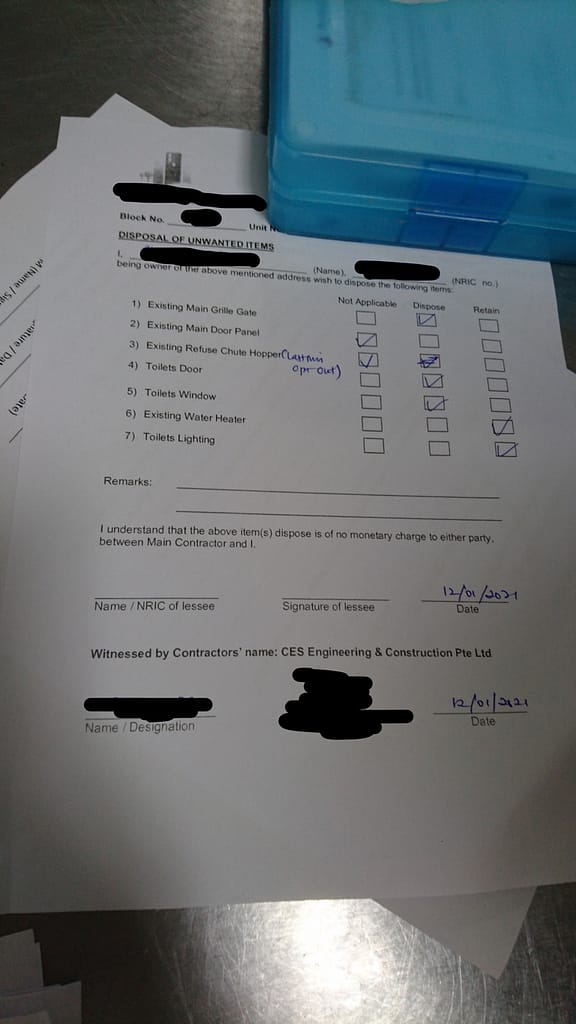 Daily Status Update Which Will Be Sign Off By The Contractors Daily
Main Door 
We Have Decided To Keep Our Current Door & Will Not Be Changing It, So The Contractors Have Protect It With A Plastic Sheet.
Protection Done By Contractors
Master Bedroom Bathroom – Day 1 Hacking Done!
This Is The Kitchen Bathroom – Day 1 With Temporary Pipes To Ensure That Water From Temporary Bathroom Are Drained Out Without Leaking
**FYI – The Temporary Bathroom Will Be In Your Kitchen From Day 1 to 9 But Can Only Be Used From 7pm To Next Morning 8am Daily.  Reason –> Pipes Will Be Remove During The Day So That Contractors Can Continue With Their Work.
One Of Our Power Point Was Being Used.   As Per Our Understanding, Contractors Are Not Suppose To Use Our Home Electricity For Their Work… So We Have Re Cover The Power Point As An Indication To Tell Them That This Is Not For Usage.
DAY 2
Not Much Dust Today. Phew!!
They Only Did Some Piping (Done By A 3rd Party Company For The Washing Machine Drainage), Window Installation And Some Repairing Work For The Concrete.
Pipping In Master Bedroom Bathroom- The Grey Pipe Is Connected Properly To Ensure That Air Con Water Is Being Drain Out
Bathroom Door – Wonder If The Damaged Wall Will Be Patch Up?
Kitchen Bathroom – Piping Done For Washing Machine.  We Are Happy and Glad We Paid For This Because It Is Always Inconvenient  Previously When We Were Doing Our Laundry And The Floor Is Always Wet.
DAY 3
For The Next Few Days The Work Progress Are Not As Dusty And Are Mainly Patching & Cementing.
Master Bedroom – Ceiling
Master Bedroom – Bathroom Floor
Common Bathroom – Floor
DAY 4
More Patching & Cementing for Wall and Ceiling.
DAY 5
1st Water Test – The Contractors Will Come In The Morning, Fill Up Your Bathroom With Water & Back After 3 To 4 Hours To Check If The Floor Has Any Issues.
At This Stage, Our Existing Sewage Pipes Are Not Being Painted Yet But Rest Assure, They Will Do It Later.
DAY 6 To 7
Final Adding Of Another Layer Of Cement & Tiling Work Starts For Both Bathrooms.
New Gate Is Being Installed But Unfinished Top As They Need To Customize It.
DAY 8
Work Done Are As Follow:
Ceiling Painted.
Wall Around The Entrance To The Bathroom Are Patched.
Curb To Bathroom Has Been Patch Up.
Window Glass Panels Attached.
Sewage Pipes Painted
DAY 9
We Have To Meet The Contractor Today To Review On What Are The Items To Install And Their Exact Location Including Bathroom Folding Doors.  Example:  Mirror, Bidet, Heater,  Grab Bar, Hanging Rack etc..  In Addition, The Top Of The Gate Has Been Completed!
On This Night, We Start Reviewing What Are The Problems & Start To Paste Our Comments Near Those Issues. You May Use The Paper Masking Tape And Use A Marker To Write On Them.
Issues That We Found Are
Paint Job Not Done Properly
Tones Of Holes In Between Tiles (Both Wall & Floor Tiles)
Uneven Floor Tiles
Cracked Tile (Just One In Our Case)
**Look Out For Corners Near The Sewage Pipes To Ensure That They Have Done A Proper Job.  Do Check The Wall Or Tiles In Your Kitchen Too Because There Might Be Cracks Found Especially If You Are Living In A Very Old HDB.
When Using Your Bathroom, Allow The Water On The Floor Tiles To Dry Up On Its Own.    Check Them Next Day For Those Dark Lines.  These Might Be Water Ponding Or Cement Not Done Properly Or Uneven Tiles.    Take A Video And Report It ASAP At The Contractor Office So They Could Ask Someone To Fix it!
FINAL DAY!!!!
A Final Water Test Will Be Done In The Morning & Once Done, It is Time For Handover!
Care Instructions For Slip Resistance Tiles
Documents To Sign Off And Collection Of Keys (5pcs)
LEFT – Floor That Was Wrap With Plastics VS RIGHT – Floor Which Are Not Protected
This Really Reflects The Benefits Of Protecting Your Floor Or Home Properly With Plastic Sheets.
Vinyl Floor Were All Protected With Plastic Sheets And Only A Little Bit Of Dust. Thank God!
Clean Bed Frame Thanks To Plastic Sheets Too!
Living Room Looks Clean As Well
OUR NEW BATHROOOM
Clean White Bathroom – A Big Thank You To All The Contractors' Hard Work. We Hope Our Articles Have Help To Give Everyone A Better Understanding Of What To Expect For Home Improvement Programme. 🙂
Please Share With Your Friends & Family And Follow Us On Instagram 
Share on facebook
Share on whatsapp
Share on telegram

Instagram


Home Decorations To Go With
Want to create you own color codes? Check it out on htmlcolorcodes.com